Building Community Through Collaboration
About Maria Van Laanen
Maria S. Van Laanen draws on her passion for building compassionate and engaged communities through the arts in her leadership role as president & CEO of the Fox Cities Performing Arts Center. This state-of-the-art center completed in November of 2002 is located in Appleton, Wisconsin and contains a 2,100 seat opera-style house, a 350 seat black box style theater and a 75 person private function space. Programming of this facility includes a Broadway series, a performing arts series, and a daytime education series, making the Center a multicultural gathering place for the community.

Maria draws on her more than 25 years of experience in arts management as she brings a variety of groups together in the Fox Valley region, the State of Wisconsin and throughout the country to build programs based in live performing arts to explore the intersections of art and education, civic engagement, and community building.

Maria is a Tony voting member of The Broadway League where she is a member of their Board of Governors, The National Highschool Musical Theater Advisory Board and serves on the Equity, Diversity and Inclusion and Government Relations committees. Locally, Maria is the chair of the YMCA-Appleton, a member of Imagine Fox Cities' Belonging Group, as well as many other local boards and advisory committees.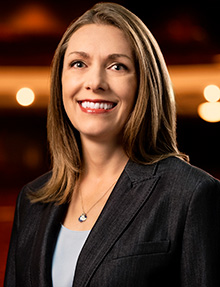 Maria Van Laanen
President and CEO of Fox Cities Performing Arts Center

Event sponsored by American National Bank