Leadership
New book builds on author's journey to authentic confidence
Ben Fauske, a confidence researcher on the faculty of St. Norbert's Center for Exceptional Leadership, launched his new book early to meet the needs of readers newly laid off during the current economic crisis.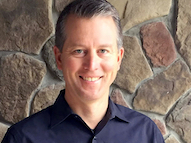 UNDERGRADUATE
New data analytics major launches
St. Norbert adds a new and rigorous data analytics major to its offerings, giving students exposure to innovative methodologies that support the critical data-driven decision-making organizations need. The curriculum is a collaboration between disciplines in the natural sciences and the Schneider School of Business & Economics.