Purpose-Driven Leadership
About Laura Kohler
Laura E. Kohler is a business leader who is passionate about driving purposeful change in our workplace and world, while being a leader at one of the oldest and largest privately held companies in America.

Taking a holistic approach to managing Kohler's 36,000 global workforce, Laura has spent much of her 29-year career maintaining the long-standing values of Kohler Co., while bringing an evolved sense of social consciousness and people leadership to the forefront. In her unique capacity as chief human resources officer and social-impact champion, she fuses both people and purpose leadership while fostering a culture of innovation in product design and all aspects of the Kohler experience.

Under her leadership, Kohler's global social impact strategy focuses on environmental sustainability, Innovation for Good, stewardship, associates in action, and the renowned Arts/Industry program. Equally important is Laura's vision for enhancing the workplace experience and creating an environment where all associates can achieve their full potential. As a founding member of Kohler's Executive Leadership Diversity Board, she believes in celebrating diversity, leading with inclusion, and upholding equity for all. Her action in recent years can be seen in the establishment of Kohler's Business Resource Groups, enhanced diversity recruitment strategies, retention and development opportunities for diverse talent, equitable health, benefit, and well-being offerings, and more.

Laura contributes her time and talents to impact organizations such as Outward Bound U.S.A. (Board Chair 2016-2019), Outward Bound International, The Actors Center in New York City, Duke University, Lawrence University, the John Michael Kohler Arts Center, Kohler Trust for Arts and Education (Chair 2015 – present), Kohler Trust for Preservation (Chair 2015 – present), Kohler Trust for Clean Water (Chair 2018 – present) the Kohler Foundation, Inc., and The Nature Conservancy in Wisconsin (Capital Campaign Chair). Following in her mother's footsteps, Laura also served on the Kohler Public Schools Board of Education for eight years, and in 2005 was named co-recipient of the Wisconsin State Superintendent's Friends of Education award. In 2019, Laura was given Duke University's Distinguished Alumni Achievement Award in Political Science. Laura was given Outward Bound's highest honor – the 2020 Kurt Hahn Award – for her many years of work to change lives and inspire others through expeditionary learning. Most recently, Laura was named as a finalist in Fast Company's Best Workplaces for Innovators within the Innovative Leader of the Year category. This recognition honors Kohler' culture of innovation through programs like Innovation for Good, the I-Prize, Safe Water for All and the Kohler WasteLAB.

Laura holds a bachelor's degree in political science from Duke University and a master's degree in fine arts from Catholic University of America.

Outside of her work, Laura is devoted to her family, and enjoys hiking, yoga, theatre and exploring new destinations. She is a member of Actor's Equity Association and Screen Actors Guild and serves on many boards. Laura resides in Kohler, Wisconsin, with her husband Steve. Together they have three daughters: Lily, Hannah, and Rachel.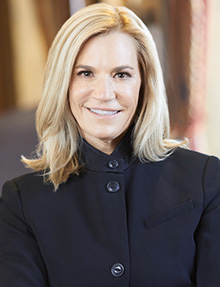 Laura Kohler
Chief Sustainability and DEI Officer of Kohler Co.

Event sponsored by Wisconsin Aluminum Foundry

New location! Event to be held at Destination Kohler - The American Club.