Leading Through the Great 'Exploration'
About Emma McTague
Emma McTague is Oshkosh Corporation's Senior Vice President and Chief Human Resources Officer, a position she has held since February 2021. She has responsibility for all areas of human resources including leading the Company's global human resources strategy, supporting wellbeing initiatives, promoting an inclusive workplace, managing talent development and driving employee engagement.

Ms. McTague previously served as Vice President of Global Human Resources for the Access Equipment Segment, a position she had since joining Oshkosh in 2015. Prior to joining Oshkosh, she worked with Hershey Foods for three years as a Senior Director and at GE Water & Process Technologies for 11 years in a number of human resources positions of increasing responsibility.

Ms. McTague is a member of the Executive Advisory Board for West Virginia University's master of science in human resource management program.

Ms. McTague is originally from Ireland and has a bachelor of commerce degree in management and economics from University College Cork, Ireland. She also has a master's degree in business administration with an international business emphasis from Saint Joseph's University, Philadelphia.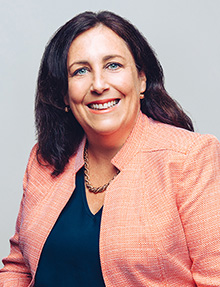 Emma McTague
Senior VP and Chief Human Resources Officer of Oshkosh Corporation

Event sponsored by New North
New location! Event to be held at Oshkosh Corporation.