Fincantieri and Servant Leadership
About Jan Allman
Jan Allman was appointed SVP for Public Affairs and Community Relations of Fincantieri Marine Group on July 6, 2021.

Prior to her SVP role with Fincantieri, Jan served seven years as Fincantieri Marinette Marine's CEO. During that time, she expertly managed the company's relationship with our partner Lockheed Martin to produce Littoral Combat Ships for the Navy, started construction of similar vessels (MMSC) for the Kingdom of Saudi Arabia through the U.S. foreign military sales effort, and perhaps more importantly, she played a prominent role in securing the Constellation Class frigate contract for FMM.

Before joining Ms. Allman served as the Vice President of Global Manufacturing at Navistar Corporation, where she and her manufacturing team played a pivotal role in helping to reinvent Navistar's manufacturing landscape. Under Ms. Allman's leadership, Navistar's vehicle and engineer manufacturing plants across North America implemented numerous rigorous standardized systems and processes and established dedicated onsite quality resources. These efforts resulted in significant improvements to the quality of Navistar's products and greater customer satisfaction.

Ms. Allman began her career with the Ford Motor Company at the Lima Engine Plant in Ohio at the age of 19. She spent 26 years at Ford in numerous vehicle and powertrain manufacturing roles with increasing responsibilities, with career assignments including engineering and production both in the U.S. and Europe. Her last position at Ford was as Chicago Assembly plant manager, where she was responsible for the plant's overall operation, the safety of its 2,500+ workforce, a $335 millionannual budget and more than $8 billion in annual revenue. During her tenure at the Chicago assembly plant, she successfully implemented a lean manufacturing model and launched nine vehicles in three years with a product portfolio complexity unlike any other facility. She and her team continued their focus on safety, improved labor hours per vehicle, exceeded budget targets, and delivered best-in-class quality during a time of rapid change.

Ms. Allman holds a B.S. in Mechanical Engineering from GMI Engineering and Management Institute in Flint, Michigan. She is a past member of the Department of Commerce Manufacturing Council, and currently on the Green Bay Packers Board of Directors, National Infrastructure Advisory Council (NIAC), President Elect of the Board of Directors for the Marinette Menominee Area Chamber of Commerce and was appointed as a Co-Chair to Governor-Elect Tony Evers' Transition Team in 2018. Ms. Allman is currently a member of the Wisconsin Waterways Commission. Notable achievements Fincantieri Marinette Marine has attained during Ms. Allmans tenure include ISO 14001:2015 Environmental and OHSAS 18001 Occupational Health and Safety Management Systems, 2017 Defense Security Service James S. Cogswell Outstanding Industrial Security Achievement Award, Earned Value Management System (EVMS) validation and numerous Shipbuilders Council of America's (SCA) and Wisconsin Safety Council (WSC) 2013-2019 Safety Awards.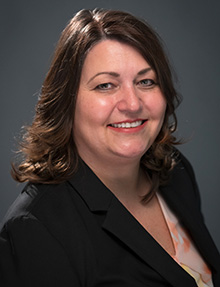 Jan Allman
Senior Vice President of Public Affairs and Community Relations and former CEO of Fincantieri Marinette Marine

Event sponsored by Bank First